Challenge Coins
<![if !vml]>

<![endif]><![if !vml]>

<![endif]><![if !vml]>
<![endif]><![if !vml]>

<![endif]><![if !vml]>

<![endif]><![if !vml]>

<![endif]>
Challenge coins originated in the military. Challenge coins are a symbol of unit identity and a source of pride. Those challenged to produce their coins must do so immediately. If they are unable to, they must buy a round of drinks or perform some other service for everyone who displays his or her military challenge coin.
Our challenge coins features your branch of service on one side and POW/MIA symbol on the other side. The borders of the coin features rope on one side and stars on the other.
These coins measure 1 ¾" in diameter and 1/8" thick. They are struck from steel and are sprayed with a bronze tone enamel. Digital label is coated in a clear and durable laminate.
Engraved with "made in USA "on the edge.
These are great coins at a reasonable price! And they are 100% made in the USA!
Comes with a clear vinyl coin holder, perfect for carrying in your pocket and protecting the coin!
Special pricing is available for larger quantities purchased.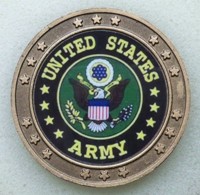 US Army Challenge Coin,
CC001g $5.99
US Marine Corps Challenge Coin,
CC002g $5.99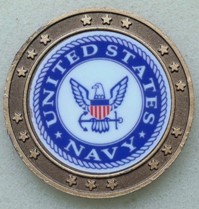 US Navy Challenge Coin,
CC003g $5.99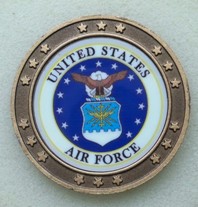 US Air Force Challenge Coin,
CC004g $5.99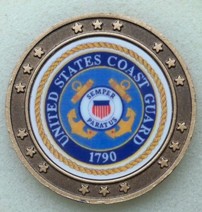 US Coast Guard Challenge Coin,
CC005g $5.99
Custom Challenge Coins
Are you looking for something special for your organization? There is nothing like the feeling of sharing membership than a challenge coin!
Our challenge coins are struck from steel and are sprayed with a bronze tone
(pictured) or silver tone synthetic enamel. They have an outside diameter of
1 ¾". They're available with two custom borders
Digital labels created from your approved art are applied to both sides. We use a
clear laminate to coat and protect.
Purchase quantities as low as 25 units. Shipped within 2 weeks! Contact us for pricing and payment terms !
Send us your artwork and we will do the rest.